The next review I will be doing is a book called "Naughty Naughty Monster" by Kaye Umansky and illustrated by Greg Abbott.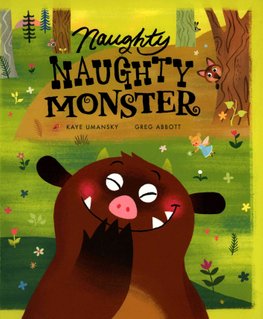 My Rating: 7 out of 10
My Son's Rating: 8 out of 10
It's about a monster who keeps on causes harm and mayhem to all the woodland creatures for fun when a fairy comes along and changes things.
I enjoyed the rhyming prose, and in my eyes everything in this little world made sense. I do like to read stories whereby the main character needs to go through a change and much like the bully in this story he learns the hard way not to hurt others, especially for fun.
I think the illustrations fit well with the text and the setting of the story, lots of browns and greens are included. The text is easy to read, and you do feel sorry for the monster at one point, but this balances out as you also feel sorry for the foxes, rabbits and hedgehogs.
It is a story about lesson learning, it's also about bullying and doing the right thing, I believe the goals from Kaye were achieved, and it was a delightful book to read to my children. I quite liked the idea behind the story, as in the main character, from the start isn't likeable, and you can see why. The fairy is an excellent example of a parental figure trying to guide the monster towards a more positive way of life.
It is an original story, with a few nods to other fairy tales which makes it an enjoyable read.  I would recommend this book to anyone who likes to read lesson learning stories and teach morals and good values to children.
Comments from my son:
"I liked the monster at the start but even better by the end."
If you liked this book, I recommend "The Truth According to Arthur" by Tim Hopgood and illustrated by David Tazzyman.
***********
DID YOU LIKE THIS REVIEW?
As any reviewer will tell you, do your homework, and the results will pay off, so homework is what I did. If you feel I've missed something, please let me know. I've got notes upon notes of what to put in and leave out. Likewise, if it's too long or too short do let me know. I'm refining this skill little by little every day.
***********