Have I reviewed my story so far?
So looking back at the past 7 days I realise the focus is slowly shifting from making the book a priority to blogging a priority.
I know I touched on this subject in a post from yesterday but it does need addressing. I think.  Maybe not, who knows? Well the way I see it, it isn't too bad a thing. Think it is a way of having a time out from the book writing, my brain is having a tantrum when trying to think about the story and the characters!
I'm having a bit of trouble trying to fall asleep at night, not sure if the accupuncture mat is affecting that (I'm having really weird dreams, weirder than normal, I even wake up not knowing what day it is, it feels like I've been transported to the other side of the universe in my sleep and that some aliens have wiped my mind completely, not good for a writer eh?) as a result I'm trying to go to bed when my body is tired instead of my brain just crashing after a writing session.  It can be hard to write in the evening but it's the only chance I get on a daily basis. So I'm getting even less time to write in general.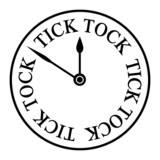 I hope by the next review the book writing has taken priority but I'm not going to get myself down if this can't be achieved.
Until next time readers, sleep well (in this universe) and hope I haven't forgotten my own name by the morning!